uPVC Column Pipes | uPVC Borehole Pipes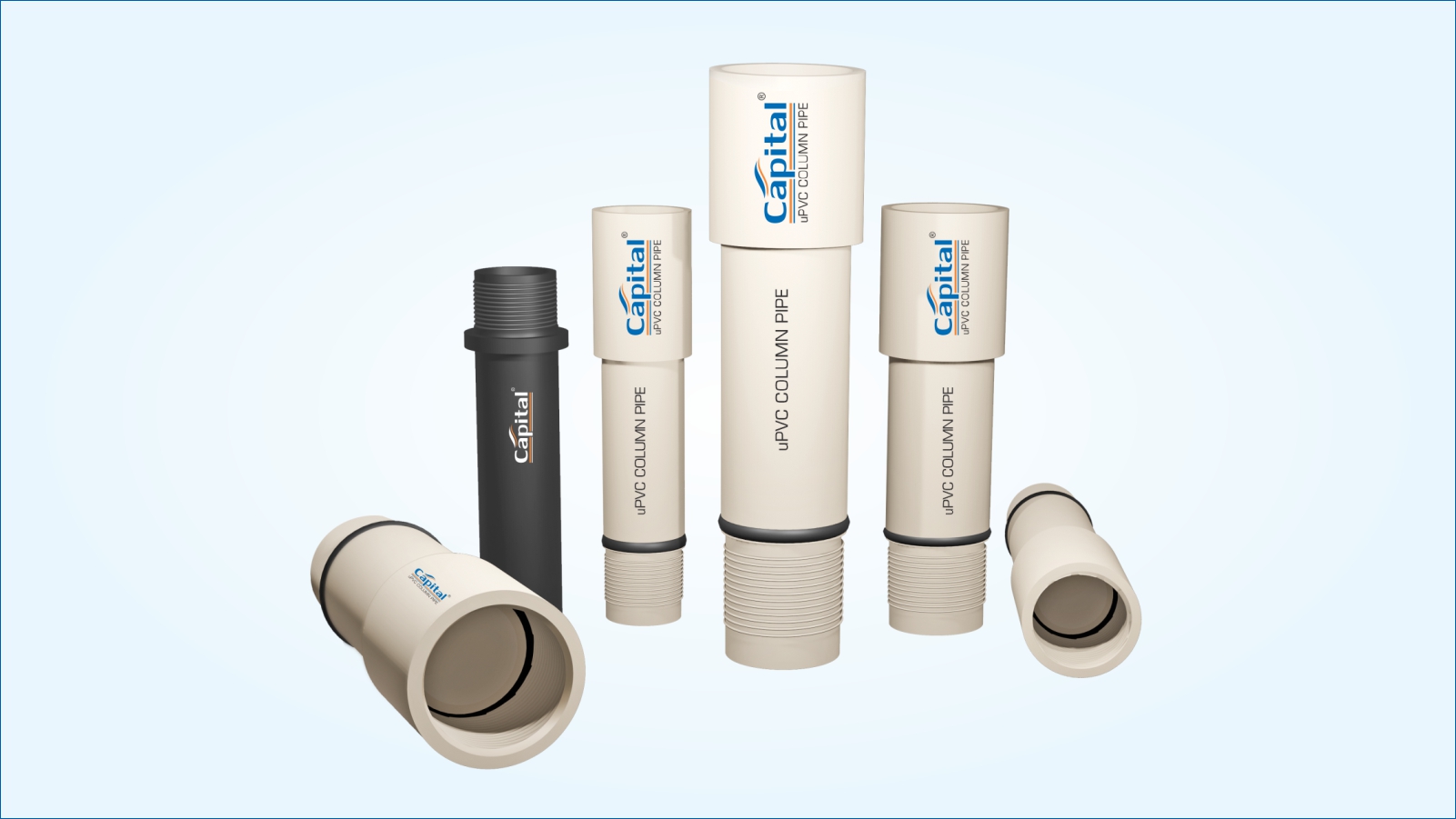 CAPITAL - Leadership You Can Trust
CAPITAL

has been setting benchmarks for quality since 2010. The leader in the manufacture of PVC and CPVC piping systems, CAPITAL is ISO 9001:2015 certified and also a National Award winning company. acres, the company has an annual manufacturing capacity of 5000 metric tons and manufactures a complete range of high technology and superior quality plastic piping systems for domestic and agricultural use. The manufacturing systems adhere to the highest level of international quality for a maintenance free life.
CAPITAL Column Pipes
CAPITAL

uPVC Column
pipes are being successfully used in erection of submersible borehole pumps. Available in diameter 25 mm to 110 mm, these pipes are the ideal replacement for GI and HDPE pipes, recommended for installations up to 1,500 feet with submersible pumps.
Successful maintenance free - track record.
| | | |
| --- | --- | --- |
| Product name | : | uPVC Column Pipes / Drop Pipes / Riser Pipes / Borehole Pipes |
| Range | : | 1" to 5" Outer Diameter ( 25 mm to 125 mm Nominal Diameter) |
| Colour | : | White |
| Length | : | Available in 3 meter |
| Types | : | ECO |
| | | MEDIUM LITE |
| | | MEDIUM |
| | | STANDERD |
| | | HEAVY |
| | | SUPER HEAVY |
Features
Made up of High Quality Virgin PVC Material
Square threads of pipes are of best design and manufactured in CNC machine in order to provide accuracy and quality
Square thread gives a very high load holding capacity and it do not rust
The "O" ring is made up of high efficient rubber provide leak proof joints
The thick and thin portion of pipes has been developed to provide higher strength to pipes
Rigid with high impact resistance
Suitable for rising water using submersible pumps in Borewell
Suitable for Jet Pump for irrigation and domestic usage
Excellent alternative of MS, ERW, HDPE and SS Pipes
Ideally suitable for Normal, Cold, clean, salty and sandy aggressive water
Suitable for use as a movable pumping system
Odourless & Hygienic, so suitable for potable water supply
High Izod impact and tensile strength
High torque resistant
100% leak proof with high flow rate
Economically satisfied as it is cost effective
Minimum Frictional loss
Light in weight hence handling, transportation and installation becomes much easier
Non-corrosive, seamless, strong and resilient
Rigid in nature with longer life
25% higher discharge compare to G.I. Pipes
Low installation cost
In-Built Automatic Loking System
In this, the coupler is fitted to the pipe through special automatic locking system to prevent thread slippage during assembly and dismantling process of pipe
The advantage of this system is, it cannot be unthreaded and dismantled and provide rigid locking
It also increases the life of the submersible pump
The coupler and pipe joints have square threads machined using CNC machine to maintain accuracy for taking high load with no slippage of threads
Due to this, it is very easy to assemble and dismantle column pipe as well as provide extra strength to the pipe
It reduces the loosening of joints during ON/OFF of submersible pumpset
This unique square thread provide sufficient grip and additional strength against tensile load
Thick And Thin Portion of Pipe
The technique for making column pipes thicker in the threading end to compensate for material due to threads. The residual thickness in the end part after removal of thread is the same as barrel thickness, therefore the pipe strength remains the same
This technique saves raw material consumption also provides much higher strength to the pipes
This portion has been developed in order to absorb the full torque produced from motor, thus resulting in long life